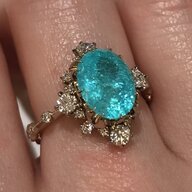 Joined

Aug 25, 2014
Messages

595
A quick update because I actually feel well enough to come back to this thread today and read through it all without any breakdowns!

Thank you again everyone, for your support and comfort.

I'm sick IRL right now (this is what happens when you're surrounded by sick people all the time I guess!) so I'm possibly too focused on how physically crappy I'm feeling to dwell on the emotional stuff, but I'm doing a little better right now.

My husband continues to try and work on himself. It sucks that there's no way to find out the absolute definitive truth- whether he really means this and will succeed or not. It's so painful, having to sit tight and watch and wait. But he is trying. That much I will give him.

As for me, I am trying to acknowledge my part in contributing to issues in our relationship. Being too busy at work, not investing as much time in us, sucking it up and not speaking up about things I was dissatisfied with in the relationship, all played a part over years. I am now down to working part time, and trying to keep the focus on building a new relationship together, on the ruins of our old one. It has been difficult, even with dropping down to part time, because I have been placed in a role of increased responsibility at work. I didn't want this, but it was time, according to my bosses. It's stressful, but I am learning that despite my own reservations and doubts about my own judgement (thanks to his affair), they still see me as a valuable part of our team and have confidence in my abilities, even when I don't myself. My bosses know that I haven't been ok. I had to speak to them to take a few days of stress leave when things were really bad (when the p*rn addiction thing came out).

I am sad a lot of the time. Occasionally I am still overcome with rage and hate. But I am better than I was 6 months ago.

He signed a post-nuptial agreement recently, which really wasn't beneficial to him. Of course, this could be another ploy and doesn't mean he won't cheat again... but it's another one of those 'show of faith' type things.