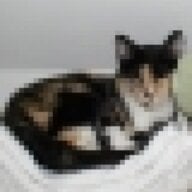 Joined

Jan 29, 2003
Messages

534
OMG, The Boy asked me last night to be his wife! We have talked about and everyone who is familiar with my posts knows that I know he''s the one and likewise on his part. But, I thought that it would come sometime next year when we can afford a ring. Don''t get me wrong, I''m ecstatic-even without the ring-even knowing he was going to ask me at some point. He still has every intention of buying a ring and mentioned as much but said he couldn''t wait and just felt last night that he had to do it. He couldn''t help himself.
Maybe I''ll buy a synthetic in the meantime and keep it for travel once I have the real deal. I almost feel extra lucky because I think he''ll plan something special for the unveiling of the ring and I''ll get this feeling all over again. I want to scream and cry and I''m so overwhelmed. I would have called in sick to spend the day with him but I have a staff meeting and I have a scrapbook class tonight. AGH!!!!!!!!!!!!!!

On a less chipper note. My sister just got married April 5 and I would feel like I''m stealing her thunder by announcing this right now so I have to keep it to myself. I just told a few people I can trust not to let it slip and of course you guys!

BTW, any synthetic recommendations? I really am leaning towards this idea because it will also let me try a setting out similar to what I like and see if I get sick of it. Maybe I''ll just buy a synthetic solitaire. Any suggestions? I don''t know what to do here.