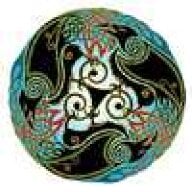 Joined

Dec 20, 2001
Messages

161
I saw the Alishan Gothic I designs at a local B&M , and sweet baby jesus! They are gorgeous. I tried on many combinations of 2mm, 3mm, 4mm and 6mm semi mounts and bands until the room began to swim. The retail on the identical design on eBay (see previous posts) for 18K white was $3600, and I asked how much the platinum version would be. I was told $7K ! They were very nice, and I will have to find a way to do business with them, maybe purchasing the thinnest band to go with the semi mount.
My husband and I were supposed to meet friends for dinner, but we passed a library on the way. "Turn around! I need a computer!" I said. So I hopped online, accepted the sellers counter offer on the plat version, and have been hyperventilating ever since.
Once I have the semi mount basket altered for my pear, and the skinny band, I''ll post some pics.
Happy, happy, HAPPY!