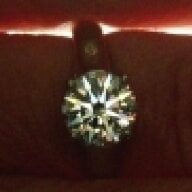 Joined

Jan 13, 2006
Messages

24,430
The following is an early inheritance gift my mom gave me last week. It was given to her by her parents when she graduated highschool in 1943.
When I saw the high crown, small table and squarish shape, I knew I had something special. I suspected it was an OMC, which has been confirmed by someone who specializes in them. They date the stone circa 1880, and the setting 1910-1920.
To say I''''m excited would be an understatement. It is the "different" ring I dreamed of getting someday. If someone had asked me to list all the things I love in a ring, a more perfect one couldn''''t have been specially made for me. I love square stones (this is close) and the frame helps. I love milligraining, scalloped edges, the straight lines, WG. And the dome shape is my all time fave, and what I personally think looks best on my fingers. I have died and gone to heaven.

Please excuse the box (and all the lint), I know this is way more deserving than a JC Penny holder, but it''''s all I had with a white background, which I wanted so as not to influence the color. She is definitely warm, in fact in some pics she''''s downright having a hot flash. I can relate.

But, the warmth shows WAY more in these pics than in real life. Most times, it just looks darker (not as bright) than my other stone (G). And sometimes, like when I first brought it out of the bank after getting it from the lock box, it honest to God made my G look warmer.

Mysterious lil stone....
I must say I am a bit perplexed by it. I expected it to blow my Isse2 away in the fire dept., but it doesn''''t, or at least hasn''''t so far. I don''''t know if it''''s just not cut well enough to, or I haven''''t got it in the right light yet. (I can''''t take it out yet, the stone is loose and prongs need retightened) I did put it to the sparkle test under one of my bedrooms lamps that has the candle lights, and really shows my other stone off well. It kept up pretty well, but again, my stone out sparkled. I''''ll wait to see what happens once I can wear it out. And don''''t get me wrong, it''''s absolutely gorgeous!

I tried to show as many different looks as I could with these pics. Hope you enjoy them, it''''s not every day you get to see one of these treasures.

Oh, and in case anyone stuck with this post and didn''''t fast forward

, don''''t forget to look at the little rounds that encircle it, they give off really cool patterns/colors sometimes.
From a distance...