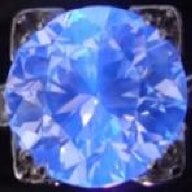 Joined

Apr 26, 2007
Messages

8,087
If you had 20K to play with,* what would you do with it? Let's assume a single piece, none of this practical "I'd buy an eternity band and put the rest towards the mortgage," or even "I'd get a deal here and a deal there and wind up with 20 awesome pieces."
I'm thinking I would hypothetically be torn between getting either an antique cushion in a Deco setting, or an east-west marquise in a chunky modern setting ... or a watch like my beloved Cartier Tank Americaine, or perhaps the Parmigiani Kalpa with the red face that y'all helped me track down (
http://www.osterjewelers.com/shop/p_watch_Parmigiani_6399.php
).
On the one hand, diamond prices are going up (and up and up!) so getting a big diamond now is ... well, "practical" isn't the right word, but it's looking like if one wants one, one should get one sooner rather than later. Or resign oneself to waiting until prices level out in a decade or so ....
On the other hand ... I haven't
got
a nice watch. I've got a sporty every-day quality watch (diving Tag), and a little dinky tiny antique rose gold tank watch that I need to order a new strap for, but no solid grown-up watch. But does a girl
need
a status watch? (Short answer: no. I know, I know!) There are so many fun fashion watches out there to play around with, whereas an upgrade is there for you to enjoy aaaaaaaaaaaaaall the time.
And on the third hand, with a baby due to arrive shortly after my anniversary in the fall, I'm trying to figure out which one I'd wear more in the five years to come ... a diamond ring in a nice bezel setting I could actually wear (as opposed to my beloved e-ring, which is a little prong-y for me to feel comfortable wearing around soft babyskin), or a fancy but still somehow practical watch.
Suggestions welcome! And by "suggestions," I mean, tell me what you think a gal could swing on that budget, which kinds of designs you'd champion, what your favorite fancy watch is and why, what you did with your jewelry once little kids were in the picture ... the works! No anecdote too personal, no tangent too left-field!
*This post is purely hypothetical, and has nothing to do with an upcoming five year anniversary. [whistles innocently]