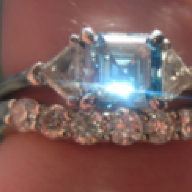 Joined

Apr 24, 2008
Messages

698
So I thought I would take a picture of my very small (but loved) collection; you know, the rings I tend to rotate between, my wedding set, a family heirloom, a bracelet with lots of sentimental value, and a pendant that maybe isn''t very high quality, but still sees a lot of action

First up, the goods from left to right:
-Earrings: approx. 2ctw of emeralds, and a center round brilliant diamond (around .10ctw each) in a white gold bezel setting. The earrings are 24k yellow gold, and were a gift (along with a matching ring) from my grandfather to my grandmother. She recently passed these down to me, and though I''m not a fan of yellow gold, I''ve always loved these earrings.
-Tennis Bracelet: A gift from my grandfather when I was around 13. French cut diamonds (sorry, I don''t know the carat weight) set in 14kt white gold. Back before I knew anything about jewelry, this bracelet used to kick in in a box 24/7; I think I went years without even removing it from the box! Aside from my wedding set, this piece probably means the most to me, as I was very close to my grandfather and was my first piece of fine jewelry.
-Aquamarine ring: A very cheapie piece that I bought for myself about a year back. The center stone is a half-carat aquamarine, and it has two small (about .20) rb diamonds (which are a very bad cut, actually, but they sparkle enough for me, so meh). It''s set in 14kt white gold. I got a matching ring for my mother in yellow gold, as our birthdays are only one day apart.
-Wedding band: a platinum 2mm band with our wedding date engraved on the inside. I love this ring, but it wasn''t my first choice (it was a diamond ring or a European honeymoon, so I chose Paris instead!) My DH has already promised me an upgrade for our first anniversary (most likely a channel set band with french cuts or princesses). I wasn''t planning on his being so generous, and I''m both very lucky and excited!
-Engagement ring: A blue asscher cut diamond, .96 VVS1 (although these pictures make the center stone look very included-stupid old cameras!)
On each side is a .25 trillion cut diamond with debatable clarity (more on that later). The basket and band are platinum, with the width ranging from 1mm to 3mm (1mm by the basket, 3mm for the band). The inside is inscribed with our initials. My husband designed this ring; he learned all about diamonds just for me!

-Aquamarine ring #2: This is from a "Maul" store, but I love it irregardless. The aquamarine is 1ctw, and an emerald cut. It''s a very pale blue (in fact, it looks almost greyish most of the time, unless in direct sunlight). The band is 18kt white gold, and there are six very, very, VERY small diamonds set in the band. It was a gift from my mother when I graduated from college.
-Pendant: A small diamond journey pendant from my grandmother. It didn''t come with any documentation (I''m not even sure where she purchased it), but I can tell quite easily that it isn''t high quality. The diamonds are small, but even with the naked eye, there are visible inclusions. It does have a bit of sparkle, though, which surprises me given how included and small the stones are. It''s 18kt white gold with a (not pictured) white gold chain. It''s a sweet little gift from my grandmother, who lives quite modestly since my grandfather passed away; but she knows I love the sparkles, so she gives me a little nudge whenever she can.