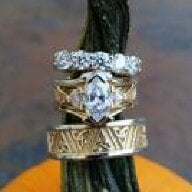 Joined

Feb 6, 2009
Messages

2,181
OK... so this is driving me nuts and I need everyone''s opinion. Help me!!! A little background before I complain....
I am a bridesmaid in my cousins wedding. I agreed even though I''m eyeball deep in planning my own thats in Oct. We have all worked our butts off helping pull together a pink and purple wine themed wedding - for example I strung crystals for 7 hours for the centerpieces. She enters one of those makeover TV wedding shows, Im not allowed to say which one, where 3 weeks before the wedding, they take everything you did and throw it away. Replace it with whatever they think is better. The whole family is now on anti-anxiety medication to deal with the stress of it because the bride wanted bigger and better. Think ULTIMATE bridezilla.
Ok, so here''s the b*tching - we already bought bridesmaids dresses... an ugly purple one, spent 200 on it. Now for the show we all have to go to NYC, on our own expense to get fitting into the dress they decided to replace it with. I walk into the studio to go to the seamstress.... and there are the dresses. They are no longer pink nor purple but red..........................................
Here''s the catch - THEY ARE MY BRIDESMAIDS DRESSES. My EXACT color red, the same cut as my girls, just a different designer. After all the stress of all this, all the extra time and money we have to put into (believe me, w/o going into it there are so many inconveniences related to this show its ridiculous) they are now impinging on my wedding too. I went through the whole fitting with tears streaming down my face.
How would you feel if your cousins wedding now stole your colors and your bridesmaids dresses? Am I overreacting? Help! I feel sooooo hurt here, really hurt.