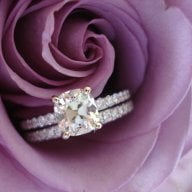 Joined

Sep 23, 2011
Messages

620
How might east-west EC side stones look with my cushion?
I've always thought that tapered baguette settings were so classy, but here lately I have been thinking that maybe I want chunkier steps than what baguettes usually have. This has brought me to consider all the different step cut side options: traps, bullets, etc. I decided that I'd prefer the horizontal look of bullets over the vertical orientation of traps. I actually got to try on a setting with bullets and loved it, but the price tag in the brick and mortar store was $6k! So, I'm not sure about bullets anymore.
So now I'm wondering if my cushion would look nice with an east-west emerald cut diamond on each side.
I already have a .41 EC that is close in color to my cushion. I have been considering finding a match to create a three stone ring.
It may be difficult to find a match, though.
How would this combination look? I'll add some pictures of my EC and cushion next to each other so that you can gauge the proportions.
The cushion is 5.58x5.9 mm. The EC is 5.52x3.36 mm.