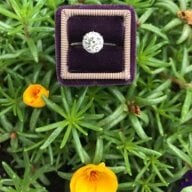 Joined

May 25, 2016
Messages

308
I have a nice 1 carat mrb that used to be an engagement ring and is now a bezel solitaire pendant.
This place puts big diamond ideas in your head.

1. How close do you think stones have to match for earrings? Mine is a 1.02/I/VS2.
Does the color have to be an I, you think? How far down in carat weight would still "match?" (I am guessing a .98 or .99 is much cheaper than a 1.00+?)
I wonder if I could get a used one or something of earring quality for a few thousand? Am I dreaming? Should I search LT on the regular?
I am just thinking out loud. This wouldn't be an immediate project as we are still making my e-ring and I need select a wedding band, etc. So, priority-wise, it's down the line.
2. Maybe it would be just be better to sell the stone or trade someplace for two smaller stones? Or trade it and pay the difference. Do places do this? Is it ever a good deal?
I (he) bought from a local jeweler in Nashville. Now I live in Denver. So, no large chain store for a trade-in.
Where would you look into something like this if you were me?
I am just thinking that I would wear diamond studs daily; the necklace is lovely but I don't wear it much right now.