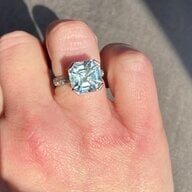 Joined

May 30, 2015
Messages

373
Here we have a very beautiful semi-mount that can accommodate a round stone, cushion or square shape stone. This has remarkable filigree and miligrain details that must be seen in person to appreciate the craftsmanship of this piece. This ring has a unique art deco character and one of a kind

www.etsy.com

What do you think of that one? It'll probably cost you $100 for additional setting cost and $50 to resize, so for $500-$600 it'll be under budget with great finger coverage.

Some of the other Ivy and Rose mounts are more square halo like. I think the one I linked will look better with a non-square stone, since there's enough interesting things going on with the other geometric elements the center stone will look good as long as it's symmetric E-W.
Thanks
@voce
that is one of the 4 I had pinned from Ivy and Rose. Do you think I should send the stone to them for setting?
Goal is still the middle finger
I love the designs I posted but I am looking at 3-4K australian and it won't be in the budget for quite awhile. If I was going to drop that on a setting I would want a better central stone (not that I don't love this one but don't want the setting to be 3-4 times the cost of it.