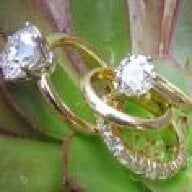 Joined

Feb 24, 2008
Messages

3,365
Hi guys!
I have a large amethyst that is a deep purple oval.
It's measurements are: 22.7mm x 19.9mm x 14mm deep!!!
From the back (culet side) the deep purple colour is clear, but from the front front, it can appear very deep, almost black, with dark purple highlights where the light comes through the sides.
It is soo deep!
I'm thinking as thin a bezel as possible, with no back (to let the light through to the stone, although of course my body will be in the way of the light), fixed onto a shortish chain as a necklace to sit at the throat.
I hope this is secure enough!!
What would you do with it??
It looks like this photo of spinel (captured from the Coloured Stone board landing page), but (much) darker!