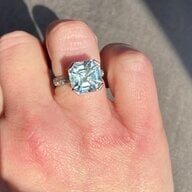 Joined

May 30, 2015
Messages

477
I purchased the below grey spinel and I am wondering how to set it?
I have no skills at taking pics of gems sadly so I have thrown in a link for the video
It is very dark but sunlight and indoor light it has a glittery dispersion with a purplish hue. It can look a little metallic too
I was thinking of a gift for my sister maybe set in rose gold which she loves
Or my daughter is 16 next year and has a bit of a love of the dark side (think teenage emo girl) maybe something unusual for her in an oxidised setting.
I figure its a gem for halloween for sure anyway.