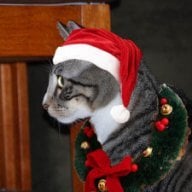 Joined

Dec 3, 2007
Messages

2,392
What a crazy crazy weekend we just had!!!
After K''s layoff last Wednesday we did some quick thinking, figured out we could save a lot of money on some expenses if we got married right away, so decided to just go for it. Our original plan was to go to Vegas the weekend before we left for Mexico, towards the end of April, to get married but the timing seemed right to move it up. We made a few calls to friends to let them know we were coming, packed a bag and jumped into the car.
We got to Vegas Friday evening, with enough time for a late meal and some quick planning. We didn''t really care what the ceremony was as long as we were married by the end. Our friends took that and ran with it. It was great - they took care of planning everything so that we could spend Saturday getting rings and a marriage license.
The first trick was to try and find a ring for a very picky boy. As we were leaving our friend''s house we passed a Kohls so we stopped in there. He found one he liked, but it was 1/2 size too big. The gal behind the counter recommended Jared because they have a large selection. Jared was on the other side of town, but we hopped in the car and headed over there. Unfortunately, they only care size 10 rings in stock and everything else had to be ordered. Not so good for a wedding that evening. Looking across the parking lot I spied a WalMart, but K didn''t like anything there. By that point he decided he wanted the ring from Kohls. Ugh. As we were headed downtown towards the courthouse we spotted another Kohls, but they didn''t have the ring he liked in stock.
Over to the courthouse/Marriage License place. Ran in, waited in line, handed over paperwork and what? You only take cash? K had to dash out to the ATM, then run back across the street. It was pretty funny to watch. We got all our paperwork in order and headed back over to the Kohls where we had started.
Whew! We finished all our errands around 2pm, then had about two hours to relax before heading over to a friend''s birthday party. At this point our friends came home and told us what they had in store for us - they had arranged for a limo to meet us when our other friend''s birthday party was over and would take us to a drive-thru wedding chapel. Hurray! This was exactly what we had in mind - fun, cheesy, and very Vegas.
Fast forward through the birthday party and some interesting times playing Bingo, and the limo driver arrived to pick us up! He brought my flowers with him.