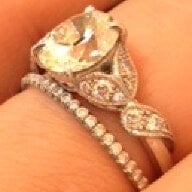 Joined

Feb 17, 2007
Messages

14,167
Date:

3/4/2009 11:47:26 PM

Author:

FrekeChild

Date:

3/4/2009 11:45:12 PM

Author:

EricaR

Date: 3/4/2009 11:41:49 PM

Author: FrekeChild

Yay for Dom!!!! (How was it anyway?!) And did K make a mess? And what shoes were you wearing?

I think someone gave you too much caffeine tonight...

I was wearing my Dansko clogs. Oh well! I had about 20 minutes to pack so literally went running out the door wearing what I had worn to work. At least my Danskos are comfy!

Only you''d be wrong! I''ve had too many girl scout cookies. One would think I''d be exhausted. But no. It helps that I''m avoiding doing my math homework...

Well I can''t say anything because I was wearing my green crocs when he proposed. Green crocs and an otherwise stylin'' outfit...
Lol Freke. I was wearing PINK Crocs!!!
And
ERICA
You rock girl! A HUGE congratulations to you guys, looks like you had a blast and you have some wonderful friends there!