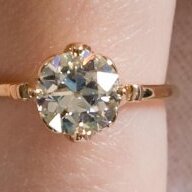 Joined

Mar 23, 2009
Messages

140
Good morning, and Happy Easter! (and Happy all other holidays which you may be celebrating today, excuse me for not knowing the names!

)
I wanted to know how snugly a ring should fit! I had my finger resized yesterday when I picked up my GORGEOUS OEC as an upgrade for my engagement ring (pictures later, I promise. It is just amazing though. 1.15 carats, VS1, M, beautifully cut, faces up larger than it''s carat size usually does for an OEC. OMG I am so excited about it!)....
Anyway, phew

, the jeweler said I''d been wearing my rings (which have very thin bands) too loose. I was wearing a 4.25. So, he had me try on a 4 and a 3.75. I could get both on and off (and my hands were quite warm, etc). The 4 was easier to get off, but he said that for a ring I''ll be wearing every day and not taking off a lot, I should go with the 3.75 even though I had to tug a bit to get it off.
Opinions? Oh, and I put a down payment on the beautiful Heart of Water Jewels lotus setting in 18K yellow gold (with a matching wedding band, because my current wedding band is white gold). I''ll attach a pic of the setting, though I have posted it before! I CAN''T WAIT!!!