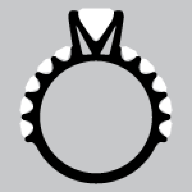 Joined

Apr 12, 2011
Messages

25
I've been searching the web for an engagement ring and wedding band for the past month or so and i've come across hundreds of different websites. Many of them (
WF
,
JA
,
GOG
) seem to be working relatively well and with very few flaws. But the vast majority are just horrible to deal with. Search functions don't work properly, photos are non-existant, too small, or poorly done; and then there's the ooooold sites that are almost completely useless with browser incompatibility and formatting issues.
I'm wondering how much these companies with great websites really benefit and what would need to happen for the rest of the industry to catch up a little. I'm a web designer myself so i have a rooting interest in upgrades, but i'm wondering what non-designers think of the issue. i feel like service and quality obviously have to come first for a company, but there's no way
GOG
would be doing as well as they are without the huge web presence that they have. why aren't other jewelers trying to capitalize on a potentially giant, worldwide market?