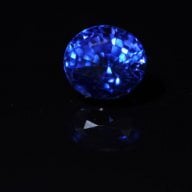 Joined

May 5, 2005
Messages

348
There are a lot of threads here where people ask if a stone is the top color, or if it is the best example of a certain kind of stone. I think we can all agree that more generally sought-after colors should be priced more highly, and that we should all be on the lookout to make sure we don't pay more for a stone than it's worth on the general market (e.g., that we don't pay big bucks for a grey sapphire even if we really want a grey sapphire, etc.).
My question, though is slightly different: how much do you let your preferences be swayed by what everyone else is doing? I am a mix, myself. Sometimes I have my own preferences and no one else can shake them -- like I prefer my blue sapphires with no violet and am good with even a little tint of green, as long as it doesn't shade into grey, while I think the top sapphire color, and some of the very beautiful sapphires that have been posted here recently, like athenaworth's sapphire from JW, have a little violet and no green at all. I also think a lot of "top color" stones are often medium dark, and I find myself more drawn to medium-tone stones.
But sometimes I totally let PS threads talk me into liking things. Last year I bought a couple of (small included; was all I could afford) Mahenge spinels from Tan in the middle of all the Mahenge madness. (I need to take good pics... maybe I'll try to do that this weekend.) Before looking at all the Mahenge **** on PS, even though I like the hot-pink-red-orange color, I would never even have thought that I wanted that color. Recently I found myself looking at chrysoberyls... I don't even
like
yellow stones! Or, at least, I didn't think I did, but there were all these gushing threads about how awesome chrysoberyls were, and suddenly I find myself trying to justify buying one! I also narrowly escaped buying an asscher -- someone else snapped it up before I did -- and I'm glad because I actually don't like asschers; I don't know what I was thinking! Well, I do know; again it was that I have read so much about how much people like asschers on PS that it started messing with my brain.
So, how about you... are you firm in your preferences or do you find yourself, like me, swayed by public opinion?