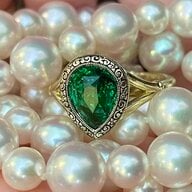 Joined

Mar 2, 2009
Messages

12,359
My ex didn't really involve me in the process at all other than asking what shape of diamond I liked. Oy. I ended up resetting the diamond into something I actually liked lol. But it definitely bugged me that refused to let me participate given how much I enjoy jewelry and given he dense he is at it. He literally had given no thought to a setting until he got the diamond and the guy was like "what do you want to see it in" and my ex was like " what do you mean. I want to set it into an engagement ring". He ended up picking the setting that "looks most like my moms".

To his credit he only fussed a little about my resetting it. But still, his inflexibility about gender norms was one of the things that made me crazy!

So yeah. I'd compromise on budget but not much on style and getting what you want. It'll just be more money later to reset it if you end up not loving it.