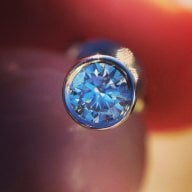 Joined

Jul 7, 2004
Messages

10,763
I like my Diet Coke and Diet Dr. Pepper quite a bit. I didn't think of myself as being addicted because I don't usually crave it. I like the taste of it and counted the last couple days how many I have in a workday and I am rethinking this soda-addiction belief I have. In two days alone over the 16 hours at work, I have ingested a 32 oz Fountain Diet Coke (with caffeine) plus NINE MORE CANS of Caffeine Free Diet Coke / Diet Dr. Pepper! IN TWO DAYS. I rarely have soda at all at home, I have a few in the house that are caffeine free but rarely drink one unless we're having something like pizza or a burger for dinner (also rare). I will get it at a restaurant/on weekends from a fountain though.

I do drink a lot of water also, so it's not that I am living on soda. But wow. I may need to start leaving all but a couple cans outside of the fridge or something so that it's not all cold, since I prefer it cold from the fridge out of a can.

Anyone else drink soda? this much!?