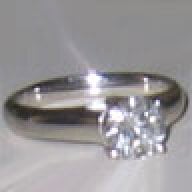 Joined

Nov 8, 2005
Messages

3,136
Just wondering! Also, do you usually wear the same one every day or do you switch it up?

I'll answer.... I have my eternity band and my OEC with sapphires. I usually wear the eternity band, but I switch them up. I also have the Tiffany silver mesh ring and a silver rolling ring and an aqua ring which I used to alternate, but I don't wear them much anymore.

I don't really enjoy my OEC with sapphire RHR as much as I thought I would because it comes loose fairly frequently - also I feel like I am wearing two engagement rings. I'm thinking about it reset in DBTY style as a necklace, and then getting a honking sapphire with halo for my RHR... but DH does not yet know of this plan!