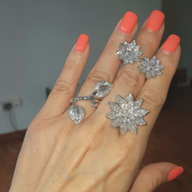 Joined

Oct 5, 2006
Messages

9,927
So I'm curious as to how PS has influenced your diamond purchasing? I'm mostly interested in the sheer number/ volume of purchases since you discovered PS; but if you'd like to post how else it's influenced your decisions, I'd love to hear it too.
I'll start: since PS, I've bought these diamonds with PS vendors:
- three pairs of super-ideal diamond studs with Brian (have since returned 2 pairs for upgrading)
- a 3.50ct pear-shaped diamond
- a 3-stone ring (middle stone is a "blue" and the sides are from JA)
- pear drops which have since been returned to JA for upgrading
- super-ideal RB pendant also from BGD
- an Octavia wt GOG which I am upgrading towards a bigger one
I've also bought a bracelet from a local jeweller and various smaller diamonds, which have to be at least ideal cut.