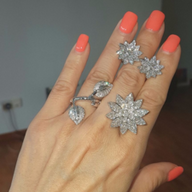 Joined

Oct 5, 2006
Messages

9,494
Phoenix|1316100896|3018210 said:

yennyfire|1316100244|3018205 said:

I also bought an eternity band with .20 pt stones (14 of them)

ETA: Ah, the 0.20ct cut-off point again! Seems like a common theme here. Maybe I should email Admin and see if I can change that criterion to "GREATER than 0.20ct". Anyway, there's already an option for re-voting. So perhaps if that criterion is changed, if you could pls vote then or re-vote if you've already voted. Pls all those who have voted using this criterion stated above ("equal to or greater than 0.20ct"), including Circe and lbbaber, pls re-vote then, assuming it can be altered.

Silly Phoenix!
ETA: Okie, already sent a request to Admin. So, let's just wait and see if the criterion can be changed. I guess it'd be a lot more meaningful to count an eternity band or huggies of 0.20'cts as one item rather than 10 or 14 of them! Again
!! lol!!