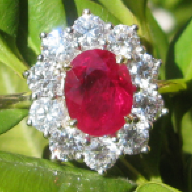 Joined

Aug 15, 2004
Messages

5,537
I''m having my local jeweler make me a pair of diamond drop leverback earrings ala piccolascimmia''s beautiful pair. I took the stones in on Feb. 12. I gave instructions that I want them handmade with wire so they show the back of the stone, just like hers does. They''re making them in platinum.
Well...... I''m still waiting! Here''s what I think they should have done: based on measurements of stones, make platinum wire O-ring, solder three wire prongs and one small loop to O. Polish. Order platinum lever-backs. Attach basket to lever-back and solder. Mount diamonds. What...... 3 weeks tops?
What they''re doing: take one week to make CAD of baskets, call me in to approve, send CAD out for casting, wait two weeks, order platinum lever-backs, wait a week for them to arrive, send to bench that did CAD for them to attach basket and mount stones, another week to week and a half. So.... a total of 5 and a half to 6 weeks?
I called them this week, and they have just ordered the levers, so I have another two weeks to wait!
I use this jeweler on many of my smaller projects because they are local (support your local economy) and the bench guy does a good job with all of the half mangled old pieces I drag into him to rehab. He would have been fully capable of this job!! Unless he doesn''t fabricate in platinum? I told the guy I''m working with that I would go wg, but the plat quote was only $150 more, so I figured why not upgrade? I know he''s practicing CAD, but this project didn''t need it!!
I''m a really good customer, so why would they "yank me around" like this?