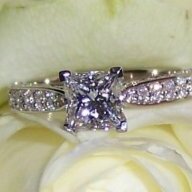 Joined

Jan 15, 2007
Messages

144
I just found a diamond on
BN
today (I''m guessing it must be new because I don''t remember seeing it on there before)... and it is a Signature Ideal princess cut that is everything I am looking for and very close to the price that I need, we could manage it... but although it is Signature Ideal I was VERY surprised to see the table is 72 and the depth is 63.1! Admittedly I know little regarding this but it seems to me that this diamond is very shallow. Looking at the picture in the report I think it is beautiful and it is EXACTLY what I have been looking for but should I hesitate because of the proportions? Please help me figure this out because I am so confused at this point. If it checks out ok with you guys I am going to call an have them hold it immediately so please let me know what you think.
http://www.bluenile.com/diamonds_details.asp?__fun_frm=i&pid=LD01019974&filter_id=1
Thanks again for your help!