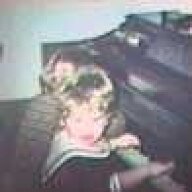 Joined

Sep 29, 2002
Messages

123
I think I found a good pair of stones for earrings. They are both AGS certified. I was faxed their certs but the 0.59 cert is unreadable on the right hand side. Here are the readable stats and prices.
Carat 0.59 0.597
Color H H
Clarity SI1 SI1
Price $1,215 $1,348
Depth 60.9 61.0
Table 55 55
Crown ang unreadable 34.3
Pav ang unreadable 41
Girdle unreadable faceted .7-1.3%
Polish Excellent Excellent
Symmetry Ideal Ideal
Proportions Ideal Ideal
Dimensions 5.46x5.49x3.33 5.45x5.48x3.33
Fluorescence Negligible Negligible
Comments H&A
I am having them sent to Martin Fuller for an appointment I have with him on Friday. So, what do you think? How about the prices?
Thanks.