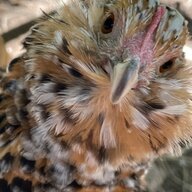 Joined

Nov 4, 2011
Messages

275
So I just got this nifty old mine cut enamel ring. No idea how old it is. It was sold as early 20th century but I suspect it is a little later given the white gold 18k base and style.
It appears to have black enamel and possibly a yellow and pink gold wash on the surface (or goldish and pinkish enamel -- not sure how to tell what is enamel and what is not). I am wondering if any of you have experience with a ring like this. It is intended as a right hand/occasional ring, but even so, I don't want to destroy it. Will the enamel be incredibly fragile? Are there things I shouldn't do with this ring?
Also if anyone can date the ring, that would be helpful as well.
Thanks!