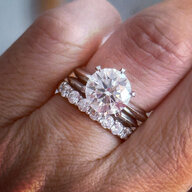 Joined

Jan 14, 2003
Messages

2,766
HI,
I found an H&A H VS2 1.53 carat diamond with faint fluorescence. It scores a 1.2 on the HCA. I was wondering if the fluor. makes the stone appear whiter. Is it bad to get any fluorescence in a diamond?
Also, if I had two stones, one ideal AGS000 and another ideal H&A , all things being equal as far as clarity and color, etc.,
Would the H&A stone face up whiter, regardless of fluor.?
thank you for any responses in advance!