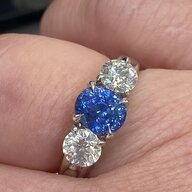 Joined

Feb 29, 2012
Messages

8,482
We had a recent post where a consumer bought and had mounted a BGD black line diamond, received it and then wore it for a few days before deciding she wanted to go in a different direction with a Crafted by infinity diamond. One vendor mounted the stone and another vendor unmounted the stone and sent the stone back to the consumer who then returned it to BGD.

Upon return to BGD, they discovered a crown facet had been damaged, which resulted in the AGSL polish getting downgraded from Ideal to excellent, which then required the two vendors to come to an agreeement among themselves as to how to equitably handle the damage and the intended remedy to get the stone back to Brian Gavin Black standards.

So, I am genuinely interested in ways a few days worn diamond gets a crown facet damaged? Knocked by the consumer? Dropped by the consumer? Mounting or unmounting?
Last edited: