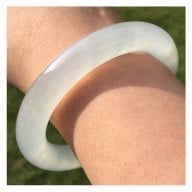 Joined

May 1, 2009
Messages

4,507
I was tidying my rings yesterday and just wondered how others usually store their collection?
- By color?
- By size?
- By type?
- Absolutely random?
- Some other way that I'm not aware of?
So for me I kind of tick all the boxes since:
- By color? (That's how I keep my rings)
- By size? (That sort of happens for my loose stones, bigger ones together and smaller ones in another box - for ease of assessing which readymade ring setting is better when I go to my jeweler)
- By type? (Jadeite bangles go together, earrings in the same tray, pendants in another)
- Absolutely random (that goes for my pendants and earrings, I place them into divided trays and they go wherever there is space in those trays with no order, except that maybe the current fav is further in front/more accessible)
So I can fit all the choices but I see myself as more of a color person since that's how I sort my rings. What about you?
And since I mentioned pics, here is one of my rings…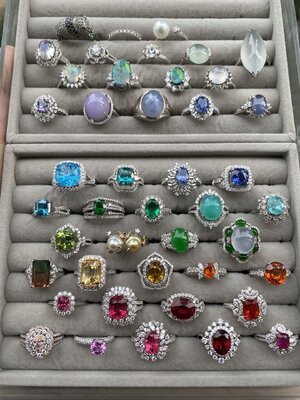 The usual bit that it's hard to photograph them so that they all look good, but seriously seeing the tray of rainbows gives me an absolute burst of joy/pleasure.