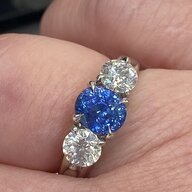 Joined

Feb 29, 2012
Messages

11,073
I have mentioned before that my original engagement is a MRB, .75 H color probably an I clarity but eye clean.

I'm making it into a 3 stone pendant (or possibly a 7 stone... need to get with the jeweler and figure it out).

The stones I needed to buy are the .37; the one I bought and forgot to send back in time for a refund is an I, ideal cut, but 2.5 HCA because its clear my .75 is not perfect. I bought I thinking it would make the bigger stone pop more...

(The other stones are all uncert also... .25 .25 .12.5 .12.5)

What would you do if you were me? Assuming I stick with the 3 stone pendant, should I start over and get the original stone measured (can I do it?) and should I get a color H instead of I for the .37s?)

The .37 I color can sit in my jewelry box until someone needs it for a promise ring or something...

Yeah. So this is what I am doing while waiting for my studs... second guessing everything!

but I thank everyone here because at least I am learning to edit my decisions whereas before I just went with "well that's perfectly fine"....