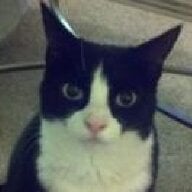 Joined

Aug 8, 2005
Messages

40,198
Help. I still don't have my refund from the ebay seller that sold me this item. It wasn't as describe so I sent it back immediately. And they are being completely &#()$&)#* and have not refunded me -- I thought paypal HELD funds for 30 days? I don't know why is this is (please see below for their last response to me) even possible!!!
"We logged into paypal and attempted to submit the refund. It would not allow us to refund from any source but our us bank fund. we wanted to use our registered card with them and they said we have to add the funds to our paypal account in order to do that which can take 3-5 business days. if you call paypal maybe they will do something different. we explained the situation and that you had returned the ring and they had no other solution. perhaps if you file a paypal complaint right now they can issue you a refund more quickly and we can deal with getting them the balance since they do not seem to appreciate time as much as you or I do. Call them or file a claim asap so we can resolve this. Obviously this is out of our hands if paypal is only allowing us these options."
So as they requested I filed the claim on Paypal. Paypal is waiting for them to respond. Well it they were going to RESPOND they would have!
EBay doesn't care that they have re-listed the item EVEN THOUGH THEY DON'T OWN IT because I own it until I get my refund. And since the claim is through paypal they are telling me it's not their problem it's paypals.
I've texted them at the number in the listing and sent them messages via ebay. NOTHING.
Here's the original listing with a three day return policy:
http://www.ebay.com/itm/320765889609?ssPageName=STRK:MEWNX:IT&_trksid=p3984.m1497.l2649
Here's the re-listed item (notice now they aren't offering a return policy? Wonder why that is? Is it because on NO PLANET is that a well cut J OEC? Yeah, that must be it):
http://www.ebay.com/itm/1-3-carat-Old-European-Cut-Diamond-lovely-Platinum-Engagement-Wedding-Ring-/320769958434?pt=US_Wedding_Bands_with_Diamonds_Gemstones&hash=item4aaf612222
I want to call into a local new station and expose both EBay and Paypal for this. "Buyer Protection" is complete crap.
I'm in FREMONT CA, btw.