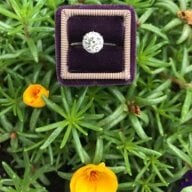 Joined

May 25, 2016
Messages

308
What I know: I want a round diamond. I am open to OEC, transitional, and whatever else.
But definitely a round stone.

I am going to ask DK to make a halo ring. The quote he gave me suggested "natural G" color stones for the halo/melee.

My plan:
For either myself or BF to contact Adam at Old World Diamonds.
Per previous feedback and advice I've gotten here, I am going to try to keep the melee and center stones within two color grades of each other.

So, I guess I will start out asking about finding a nice I colored stone in my budget?

My question is - how do I know that "I" is my desired color?

Budget heavily influences all of this, of course. But as many are aware, there are a lot of other factors that go into stone selection (size, clarity, etc.)

When I look at pictures online I can't make a huge distinction. So for example, just browsing along on Jewels by Grace or other sites with loose stones - I think they all look pretty nice. I can't see a huge difference in color.

Can anyone steer me as far as what methods they used to narrow things down? Or, sites they looked at to really get a feel as to whether they liked, say, an OEC in I vs K?

I know that my main goal is a round stone that looks good in a platinum halo, looks classic ("white", I suppose - which could mean different things to different people), is eye clean, sparkles, and is around 1.50 but inside my budget.

My budget for the stone only is in the $7k-$9k range.

I guess I am planning to find a stone and send the link to BF so he can buy it or one like it?