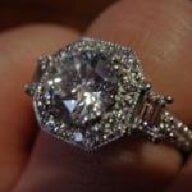 Joined

Aug 31, 2005
Messages

2,844
After a 4 yr relationship that ended when I told my fiance that I thought he was gay (which he was) and we needed to end things and stay friends...I needed lots of ME time. I dated here and there but wasn''t interested.

My friend was going to Cancun Mexico and invited me. I had 2 days to buy tix and make plans. On my first day in Cancun, we went to Senor Frogs and saw this group of guys. So obvious they were from New York. Last thing I wanted to meet anyone and especially a NYer I''m from NYC and was on vacation. My cocky husband comes up to me, makes a play and I shoot him down. Next night I went to another club and guess who was there? Every night we went to different clubs and each time my husband was at that same club. With all of the clubs in Cancun, what are the chances that 2 groups of ppl would visit the same clubs on the same nights. Well, the last night there I found him pleasantly honest and I like that. We exchanged numbers AS FRIENDS...he called me the day I got back and we''ve been together 17 yrs.

OH the kicker...my friend who I traveled with married one of the guys he was traveling with...they are still together.

what are your stories???