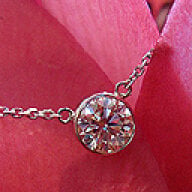 Joined

Oct 30, 2002
Messages

31,003
honestly for me a break is a kind of make it or break it. no pun intended!

when my ex and i took a break, it was clear i wanted to be on my own without him, continuously. i think i already knew that but just being out on my own, having my own life, doing whatever i wanted to do...it was so freeing. i had been in a trap of my own making.

when greg and i took a break...well we really broke up, but it ended up being a break because we got back together...we realized we missed each other horribly and it was very hard for both of us. we could have both moved on if we had to, of course...but we were happier together. we worked things out (it was really mostly miscommunication) and when we got back together it was better than ever.

so if you think that it can help clarify things, a break might be a good idea. but yes it's hard to discuss something like that because he could take it the wrong way or if as you mentioned, takes criticism heavily etc....it could be a tough discussion to have. but if it improves your quality of life...even just temporarily enough to figure things out, it would be worth it. i do recall you are in school, so i don't think you work, do you feel dependent on him for finances, aka do you feel like maybe it would be that much harder to leave him or take a break if you have no income?