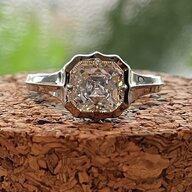 Joined

Mar 2, 2013
Messages

5,962
@smitcompton

Your post to me was perfect, funny, truthful and on target, thank you for a laugh and your honesty
Suggesting a person on this forum is 'special' and likening him to someone referred to as the same by virtue of their lack of education and hearing impairment is '
perfect
', '
funny
', '
truthful
' and '
on target
' to you, and worthy of a laugh? When there wasn't even a hint of 'joking', emoji, a wink ...
We may not agree on much in the political spectrum, but I would NEVER have imagined you supporting - much less 'cheerfully' condoning - someone disparaging or insulting another person in a manner mocking people with actual disabilities or lacking in education.
Disappointing, to say the least ... and that's the last I'll say about it.