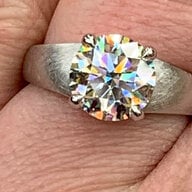 Joined

Feb 13, 2003
Messages

2,917
I bought a stone in Belgium.
I live there, too.

My stone (1.15 - J - VS1) is a H&A, but it''s not branded.
This diamond is a De Beers Millenium.
Now I want to buy a bigger stone, but it has to be an Eightstar.
If I buy at the same place, I only have to give back my stone and pay the difference, but this guy doesn''t sell Eightstars.
How can I do?
I don''t want to keep my 1.15 stone and to buy a bigger, I want to sell the first one to buy a bigger one (Eightstar).
Help me, please!
Thanks a lot!