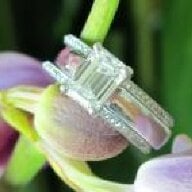 Joined

Jan 7, 2010
Messages

1,500
I took my engagement ring back to my jeweller on the weekend. I've had it for 18 months but only worn it for about 9 of those, and I was bothered that an airline was opening up between the crossbar on the basket and the long edge of the EC centre stone (it's the plain solitaire ring in my avatar). Not only that, but the airline is not even parallel to the stone - so it is sort of wedge-shaped!

It is a subtle defect and I realise many others would not even notice it but it bothers me quite a lot - kind of a "PS-er" defect if that makes sense. It's my version of a mind-clean issue!

Today I got a call back from the jeweller telling me that they had the bench check the ring and that it is fine, and completely secure. I had told them on Saturday that I knew the stone was secure but wanted the malalignment (or whatever it is) fixed; today they said that it was part and parcel of a fully hand-made ring and that it was normal for that to mean it's not quite perfect.

I stood my ground and said that we had chosen them as jewellers for their "premium service" (for which we paid a premium price) and that regardless of how minor they felt the problem was, or how secure my stone was, I would like the crossbars to sit flush against the stone (esp as it is a rectangular stone, not curved), and that I was willing to wait as long as it took to have it fixed. In the end they agreed to have it corrected (or at least ask the bench to do so), but I was left feeling a little like they thought I was being unreasonable.

Any thoughts?