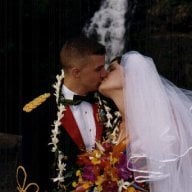 Joined

Oct 8, 2004
Messages

1,279
Caution: What follows is VERY HIGH praise!!!
Now that I have received my ring and that the appraisal has been completed, I wanted to take a moment to publicly thank those who have made my search so much easier. First and foremost I would like to thank Bill Pearlman at Pearlman's Fine Jewelry. My experience with him was first class. With minimal guidance from myself, Bill picked out the most GORGEOUS and MOST BRILLIANT round diamond that I have ever seen. Its fire is amazing and the colored light that emanates from the diamond is mesmerizing. It is flawless to the naked eye. In actuality, the only thing that the naked eye can see is the diamonds beauty, fire, and arrows! In Bill I have not only found a lifetime jeweler, but also a lifetime friend. There is no one else I would buy jewelry from. Not only was Bill extremely prompt in replying to my HUNDREDS of questions, he was professional, courteous, and friendly to boot. He was interested in me, my family, and my dream. He didn't just want to sell me a diamond, he wanted my new ring to be the most spectacular ring I had ever seen. Mission accomplished. Thanks Bill! 5 STAR RATING
The second part of the diamond buying process, the appraisal, was amazing as well. I chose to drive 6 hours round trip so that my husband and I could meet with the illustrious Richard Sherwood in Sarasota. Rich is a class act! We stayed with him during the entire appraisal (which was very comprehensive and lasted 2 hours). My ring is pretty detailed and contains 100 diamonds including the center stone. Rich looked at each of these stones and determined the color and clarity grade of the stones. He took
idealscope
pictures (the
idealscope
image was amazing, very minimal light leakage), he took all sorts of measurements and imputed all this information into Diamcalc and ran the analysis. The stone scored off the charts. Rich also provided us with three different appraisals (low, medium, and high). He appraised the stone and the setting separately. Rich was extremely professional. He showed me my diamond under the microscope, and answered all my questions while he was doing his analysis. All and all it was a fantastic experience, worth the drive and the expense!! I highly recommend Richard Sherwood and Sarasota Gem Lab for your appraisal needs!! 5 STAR RATING!
Edited to add: 11 Jan 05 - After having problems with my insurance, Rich has sent me another appraisal in Canadian dollars! That is service!
Now what you've all been waiting for:
AGS Certified
1.505 carats
Color: H
Clarity: VS2 (a very nice VS2)
Polish: Ideal
Symmetry: Ideal
Proportions: Ideal
Total Depth: 60%
Table Depth: 57%
Crown Angle: 34.0
Crown Height: 14.5
Pav. Angle: 41.1
Pav. Depth: 43.4%
Girdle: Thin
Culet: Pointed
Setting: Michael B. Three-Sided Pave 1.31ctw (all stones are D-E-F and VS2-VS1, Rich confirmed that ALL 99 of excellent make) Also, Michael B. IMO is an exceptional designer. His piece is of exceptional quality. IMO, it is unmatched and worth every penny of the price!!! The center stone, which was set by Michael B. is set perfectly. I highly recommend this piece for a high quality engagement ring!!!
Thanks all for listening and check out
www.pearlmansjewelers.com
and
www.sarasotagemlab.com
I'm sure glad I did!!!!!!!
LOOK AT THE PHENOMENAL
IDEAL SCOPE
!!!