Joined

Feb 9, 2019
Messages

2
My husband has gifted me a lovely, buttery yellow sapphire, and I want to get it set as a pendant. We can shop for a designer in either northern NJ or in Manhattan, and we are planning to shop around for someone on Friday.
The stone is rectangular. I am undecided whether I should get it set as a solitaire or with some accent stones. For personal reasons I would sort of like the piece to reference the number three. So, a trilliant diamond is an appealing option. I found the attached yellow diamond setting which I am considering, but I am still exploring ideas. (My sapphire is lighter than the stone in the image.)
On the other hand, I do plan to wear this regularly especially to work at my office job, so I am concerned about too much embellishment.
I do want the main metal to be either platinum or white gold to match my other jewelry, but I think the prongs/claws on the sapphire should be yellow gold.
Can anyone recommend (1) a designer or jeweler we should consider or (2) design ideas?
Thanks!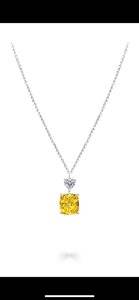 Last edited: