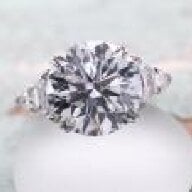 Joined

Sep 18, 2015
Messages

165
Both of these diamonds have been suggested to me by a vendor who will ship them to me for inspection with a 100% return policy. IS and ASET images are not available so I would need to do them myself when the diamonds arrive. Both diamonds score relatively poorly on the HCA but are GIA Excellent. (I am well aware that GIA Ex is a broad category, however.)
My question is, is there any reasonable chance these diamonds would perform well despite the HCA score, or should I reject them out of the box on HCA alone? I don't need H&A perfection, but obviously want a stone that will perform well with no visible leakage. There's no risk to me to checking them out, but I don't want the vendor to spend the time and money to send them to me if there's very little chance they will be keepers.
Re: the SI2 grade on the second diamond - I'm told the crystals are clear and all in one location, and that the stone is 100% eye clean. I would obviously have to judge that for myself.
I understand there are other options with other vendors but for various reasons I'm sticking with the vendor in question at this point. There are not a ton of options available in my spec and price range (which are both narrow) at the moment. That's why I am considering these.
Thanks for any thoughts/input on these two candidates.
http://www.gia.edu/cs/Satellite?rep...ename=GIA/Dispatcher&c=Page&cid=1355954554547
http://www.gia.edu/cs/Satellite?reportno=5161935070&c=Page&childpagename=GIA%2FPage%2FReportCheck&pagename=GIA%2FDispatcher&cid=1355954554547&encryptedString=7E846E429145E371C9714F0C8B19E9A8