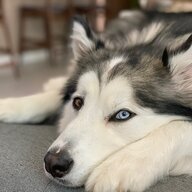 Joined

Aug 27, 2018
Messages

40
HI all!
I hope this is the right place to post this.
I just received my
WF
ACA
upgrade yesterday in the Vatche Venus solitaire setting. I absolutely love the diamond and the setting. It's delicate to offset my stubby fingers. However, I'm not sure which eternity band I should stick with.
The height of the solitaire setting appears to match closer with the 1/4 carat eternity (1st pic) band but there is much less sparkle to it. The 1/2 carat eternity (2nd pic) band has much prettier sparkle due to the larger size of the diamonds, but is considerably taller than the solitaire. I can see the difference when I look at my finger.
Which looks better in your opinion? I'm not sure if the height difference will bother me for the trade off of the sparkle impact or not.
Perhaps wear them around and see which I can live with?
Does anyone have luck matching an eternity band to the Vatche Venus setting?
Thank you all so much!