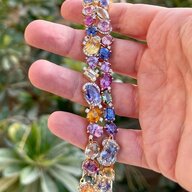 Joined

Oct 1, 2015
Messages

209
Hello all,

People here were super helpful the last time I was dithering over a setting so I've come back for some more expert advice.

I've bought a tiny but exquisite little sapphire. It's only 1.52ct but an unheated perfectly clean blue oval from Sri Lanka. 7 x 5.75mm.

I really want to do this stone justice but it's so small it might perhaps need some help to stand out. I'm in two minds about whether to go for a couple of 0.75ct diamonds each side and make it a classic three stone or go for a halo. I fear a halo might drown the little fella whereas the side diamond approach makes him the star of the show.

If I do go for the three stone should I aim for oval diamonds - as the centre stone if oval - or rounds?

Inspiration required.