I just received this for a ring with interchangeable stones, based on the inspiration ring photo I sent.
It's close to what I want but with some modifications. I hope I don't drive the jeweler crazy because I really don't know what I'm doing.
Maybe milgrain around the bezels to "soften" the look a little?
I don't really want the extra part on the band that comes up each side (with the small diamonds on it). It adds extra width on the shoulder, which I don't want (I think).
Also, do you think the surrounding stones would look more proportionate if they were a little smaller? Or, maybe the whole ring is too big and will look clunky and I should get smaller center stones too (maybe 9mm rather than 10mm?)
And, I think I want the bezels to go all the way round the surrounding stones rather than only partially on the outer edges as they do now.
I'm trying for an art deco cluster ring look.
Oh, also I want yellow gold for the bezel around the center stone and the band. And white gold (or platinum) around the surrounding diamonds. I think it's stated backwards there.
It will be a big ring. If I leave the size as is, guess I'll change the size so I can wear it on my middle finger rather than my ring finger.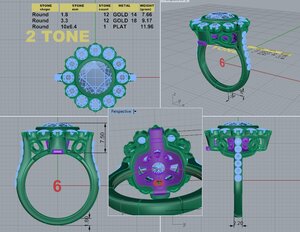 Also, here's a link. The center stones will be lab sapphires so I started the thread for this project under "Fabulous Fashion Jewelry." But I thought I might get more input here.
OK, thanks! :)) Don't know yet, waiting for Gary to respond. I am leaning towards Sapphires as I believe YAGs do not have the same variety in colours. DK :)) Ah, okay. I'll probably get sapphires too then, since they are hardest and also maybe come in more colors. I am also waiting for a...
All thoughts appreciated!
Last edited: