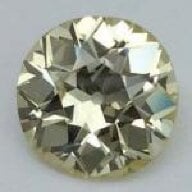 Joined

Jun 30, 2016
Messages

318
Help me, Pricescopers!
My grandmother and mother have agreed to pass on a ~3.5 ct OEC to me! Ahh! My grandmother inherited this ring from my great aunt who had inherited it from her great aunt. In the over a decade my grandmother has possessed this ring, she has worn it maybe twice. Once was to my wedding six years ago. It has spent the rest of its life locked in a safe (Except for when I would visit from out of town and insist on playing with it! Ha!). The current setting is some 70s/80s monstrosity that my great aunt had it reset into. I have no idea what happened to the original setting or what it looked like.
Alas, I want to reset it into something that better complements the era of the stone. And of course, WEAR IT! HELP ME!
About the stone:
It's roughly 3.5cts. (I intend to get it graded and appraised to better know its characteristics.)
It's not perfectly round.
There's a tiny fleck of black carbon visible in the middle of the stone.
It is low in color. Visibly yellow. As A nonprofessional, I would guess anywhere from L to Q.
The setting:
I don't know if I want a halo or solitaire...
I like the idea of a bezel to make the stone appear more round and to protect the girdle.
I'm leaning towards yellow gold to complement the yellow hue of the stone (although I've seen some lovely low color stones in white metal while creeping on Show Me the Bling!). I have no problem wearing mixed metals.
Budget: I'm dreaming of staying under $3k but would maybe stretch a bit for something "perfect".
I've been pouring over Single Stone, Jewels by Grace, Love Affair Diamonds, etc...
And, of course, pics...