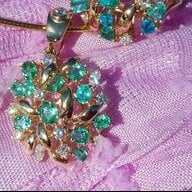 Joined

Jun 30, 2014
Messages

1,757
Admittedly, for someone who owns a lot of pearls, I don't know much about pricing.
So I fell in love with these earrings from a vendor I've known for decades. He isn't cheap but usually fair. I was surprised that he wanted $1380 (my price..he had them listed for $1850).
So are they overpriced? What about these would make them worth the asking price? They are custom made, well made and substantial. The pearls are large and from Japan. I didn't measure them but maybe 15-18mm.
I was in a rush and didn't ask many questions. I am thinking of going back and making an offer but need help. I'd walk away but they look perfect on me and most earrings do not. On the other hand, I don't want to overpay.
Thoughts?