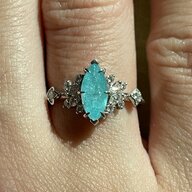 Joined

Dec 6, 2013
Messages

25
Hi everyone!
I'm celebrating a milestone birthday this year, and I've been captivated by the glow of emeralds, so I'm considering getting an emerald ring to mark the occasion. I don't know much about emeralds and have only done one other custom project so I would love to get your advice and thoughts on how to go about doing this.
I would like to get a classic three-stone emerald ring, and my favorite look from what I've seen so far is an emerald/step cut centre stone with two tapered baguettes - inspo photo attached! I would also love a matching pendant or have an option to wear the emerald as a pendant.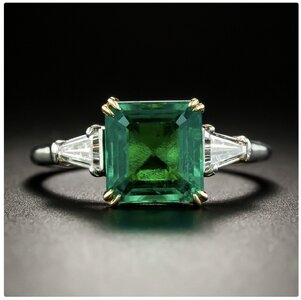 I'm currently looking at purchasing from these 3 vendors - @muzoemeralds, JR Colombian Emeralds, and @gemfactor_emeralds. Some other vendors I've seen with emeralds for sale include
@Desertrose
and @xothebijouxbox.
I have a few questions I'm mulling on that I would really appreciate inputs on. Feel free to chime in on any or all of the questions!
1. Would it make more sense to make a ringdant using the best quality emerald I can buy, or to just make/buy a ring, and buy a cheaper emerald for a separate pendant? I've seen emeralds available at a number of different price points and my budget for an emerald for my ring would be about $8-10k. Would an emerald costing under $1k be "good enough" for a pendant considering the viewing distance, so that I don't have to "reuse" the more expensive ring emerald for a ringdant design?
2. Is the best way to do this to send an outline of what I'm looking for to these 3 sellers to see what they can offer? I would love to hear views on these sellers or if there are others I should consider too!
3. If it makes sense to make a separate pendant, is the three-stone ring I want common enough that I should look for a completed ring rather than commissioning a custom piece?
4. I would love to hear thoughts on the workmanship of completed pieces from these 3 sellers. If I do a ringdant, I'm wondering if these sellers would be able to execute this well? I'm considering if I should get them to do the setting or buy the emerald loose and get it set elsewhere - which leads me to the next question!
5. One of the items on my bling wishlist is to have a ring done by CvB. Since this is a milestone project I'm wondering if this would be the one! Or is this such a simple design that it would make more sense to spend my budget on the stone rather than setting? The alternative for a custom setting (apart from the emerald vendor) is David Klass. I worked with DK on my previous project and was very happy with his work.
Thanks for reading to the end! Would be grateful for any suggestions and thoughts too. I'm just starting to brainstorm so I am not in any hurry and am very open to ideas!