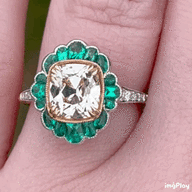 Joined

Jan 29, 2012
Messages

5,936
So a lot of you know that I picked up a small paraiba tourmaline from Yvonne Raley a couple months back. When I saw
Mochiko's
gorgeous picture of some pink Burmese spinel melee next to a green / blue paraiba, I knew I had to grab some of those spinel too.

Here are the dimensions of my .64 ct paraiba: 6.2 x 4.8 x 3.4
The spinel melee are 2mm each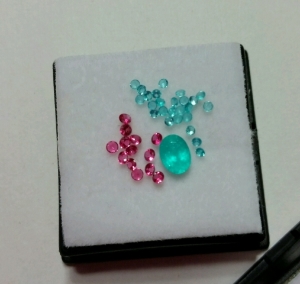 I knew I wanted a flower type ring with this paraiba and the pink melee (the paraiba melee with be used with the 1ct paraiba at a later date).

As always, I reached out to David Klass with a couple inspiration pics. I saw this gorgeous ring he made recently and fell in love with the engraving detail.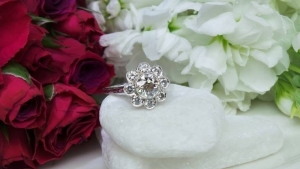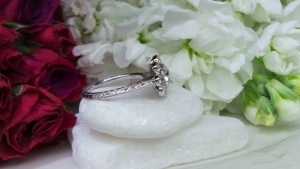 He sent me the first run of CADs
I have already requested a couple changes:
- slightly thinner band (it will be engraved so I don't know how thin it can actually be).
- slightly thinner line around the outside of the ring (that line around the melee)
I have planned to put the ring in rose gold. It would be my first rose gold piece so I'm a little nervous. Do you think the colors will work well?
I'd love any input you guys want to share. The CAD process is difficult and definitely hard for me to visualize.