Hi everyone!! I've been lurking and searching for a diamond for the past 6 months or so and have loved reading and learning from so many others processes of buying a diamond and setting! My boyfriend and I are so grateful for finding PS early in our search, otherwise we probably would have naively bought the first ring we saw at a B&M (so glad we didn't!!) - so thank you all for that!
Originally I thought I wanted a modern cushion cut, but after looking at some more diamonds in person, I realized I like the bigger facets and being able to see the geometry and symmetry of the facets so my bf and I decided on an AVC and are in the process of buying a lovely smallish colorless AVC (.75-1 carat AVC)

. Now we need help with a setting!!
To give you some context, we are both architects in Los Angeles in our late 20's, and I'm looking for an understated, simple, but unique solitaire setting. I'm fairly set on some sort of simple platinum bezel setting, but am totally open to suggestions!
The first setting I tried on that I kinda liked was the Danhov Per Lei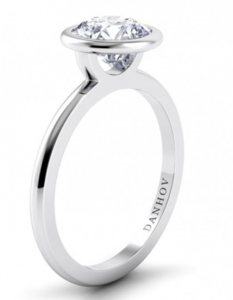 More recently, I saw some pinterest images of a Mark Patterson bezel I really liked in profile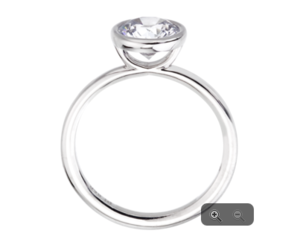 . I really like the profile of this one and how the "U" that connects the shank to the bezel is flush with the outer perimeter of the bezel, compared to the more (for lack of better words) "floating donut" look of the Danhov ring. After looking more at the Patterson ring images, it looks like this view may be an illusion of perspective and it may also be a "floating donut" situation as well. I also like this modern simplicity of this double shank(?) ring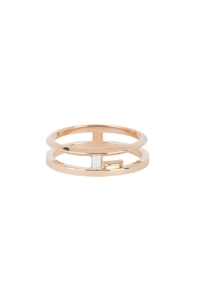 , but hard to visualize how an square AVC would look in a setting similar to this.
My question is have you guys ever seen a similar setting to the type of bezel setting shown in the Mark Patterson or double shank images? Will it look too weird with a square AVC as opposed to a round? Anything I am missing, or settings you would suggest based on my AVC and my style that you can think of?
If it helps, our budget for the setting is approx. $1,500 (preferably under $1k), and we would love to have
GOG
be able to make the setting as well since we will be buying the diamond from them.
Thank you so much, and looking forward to your feedback!!

Catherine