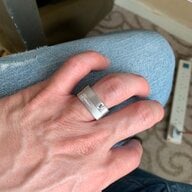 Joined

Sep 11, 2012
Messages

3,415
Hi all,
I am hoping to get some help with a project that i am taking on for my DH.
i am in search for ID bracelet and i have been searching online for sometime and not really getting anywhere.
eBay are showing some but they are quite generic.. nothing eye catching...
on one side of the plate, i will be setting a diamond.
i will be taking DH on a fact finding mission over the next few weeks here in AUS, but i know that it will be quite limiting....
specs that i know so far.
white metal and leaning towards 14k WG
8" length
width= most that i seen on line are really thin at 6mm.
we are probably going to be looking for 10mm
thinking it needs to be quite chunky...
a budget of USD$500-800.
if it is >$800 i think i might consider the custom route.
but happy to entertain options
this is the closest design i could get for now...
he doesnt like the thickness nor how the links join onto the ID bracelet.
This is going to be a few months of searching...so i am enlisting PS help to find me something or a vendor to search their stock.
I think finding something ready made is going to help keep costs down v custom made.
thank you for looking and helping.