Hi I'm new to the forum but have researching as much as possible though past postings/discussions. I am currently looking to purchase the following diamond from
James Allen
:
9152616 - This Cushion Modified Cut 2.32 Carat H Color VS1 Clarity has a diamond grading report from IGI
www.jamesallen.com
I have some concerns with it being an IGI certification and not GIA, but here is the IGI cert: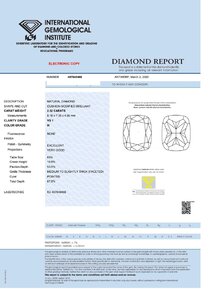 I've spoken to a number of different diamond inspectors from
JA
but they all started to sound the same with their recommendations.
What are your thoughts on this diamond? I know it's difficult to inspect especially with a cushion cut without seeing it in person but I need to decide by tonight if I should pull the plug as I currently have it on hold. Any of your thoughts would be extremely appreciated! Diamond searching has been so stressful.
Thank you!